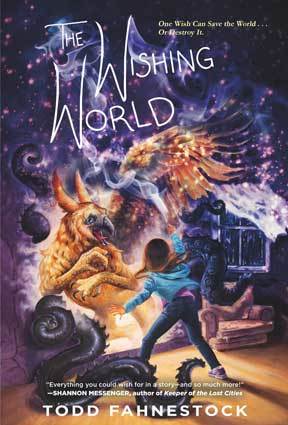 Presenting
The Wishing World by Todd Fahnestock
.
Here is the summary of the book:
In the Wishing World, dreams are real. You can transform into your own hero, find wild and whimsical friends, and wield power as great as your imagination. But Lorelei doesn't know about any of that. All she knows is that a monster took her family.

It happened during a camping trip one year ago. Hiding inside the tent, she saw shadows, tentacles and a strange creature. By the time she got up the courage to crawl outside, the monster--and Lorelei's mom, dad, and brother--were gone.

Lorelei is determined to find her family. When she accidentally breaks into the Wishing World, she discovers a way. It's a land more wonderful than she could have imagined, a land of talking griffons, water princesses, and cities made of sand, where Lorelei is a Doolivanti--a wish-maker--who can write her dreams into existence.

There's only one problem: the monster is a Doolivanti, too. What he wishes also comes true, and he's determined to shove Lorelei out, keep her family, and make the whole Wishing World his. To save them, Lorelei must find the courage to face him, or her next wish may be her last.
REVIEW ==
There is much to like here and much that was just 'me-h'. The Wishing World by Todd Fahnestock while sporting a gorgeous front cover, a fictional world and a cool world to discover..... It's just maybe I wasn't in the mood for it or maybe the writing style didn't appeal to me. But I didn't enjoy the book as much as I hoped to have.
The best thing about 'The Wishing World' though was it's Narnia-esque Wishing World (I'm not kidding that is it's name) and how the author fashions this new world. It was wonderful experience. Although on the other hand how the Doolivanti add to and their significance in the plot didn't feel that clear to me. In that aspect the writing style also takes some getting used to. But otherwise I liked what I read. Of course it was nowhere near spectacular as I was expecting it to be.
As a protagonist Lorelei certainly proved her mettle. She was determined, headstrong and with a good head on her shoulders and a rather one track mind. There was an allure to the Wishing World but she never once let that impede her mission of finding her family. All the while making friends in the unlikeliest of places and unseemly of situations.
Ultimately while this world didn't wow me as I was hoping it would, but it does have its redeeming qualities that set it apart from the others.
"A quick read into a new Narnia-esque fantasy that redefines the meaning of love and family"
Genre : Middle Grade, Fantasy
Publisher: Starscape
Release Date: 25th October, 2016
My Copy: publisher & netgalley
Rate:
3
/5 (Liked It)
Buy: Amazon | Book Depository