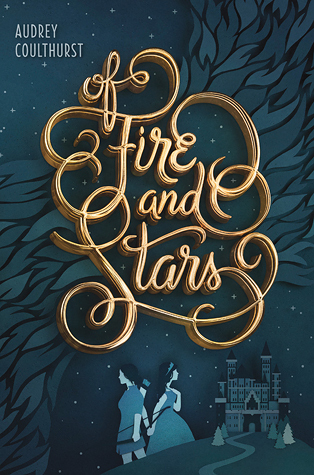 Presenting
Of Fire and Stars by Audrey Coldthurst
.
Here is the summary of the book:
Betrothed since childhood to the prince of Mynaria, Princess Dennaleia has always known what her future holds. Her marriage will seal the alliance between Mynaria and her homeland, protecting her people from other hostile lands. But Denna has a secret. She possesses an Affinity for fire—a dangerous gift for the future queen of a kingdom where magic is forbidden.

Now, Denna must learn the ways of her new home while trying to hide her growing magic. To make matters worse, she must learn to ride Mynaria's formidable warhorses before her coronation—and her teacher is the person who intimidates her most, the prickly and unconventional Princess Amaranthine (called Mare), sister of her betrothed.

When a shocking assassination leaves the kingdom reeling, Mare and Denna reluctantly join forces to search for the culprit. As the two work together, each discovers there's more to the other than she thought. Mare is surprised by Denna's intelligence and bravery, while Denna is drawn to Mare's independent streak. Soon their friendship is threatening to blossom into something more.

But with dangerous conflict brewing that makes the alliance more important than ever, acting on their feelings could be deadly. Forced to choose between their duty and their hearts, Mare and Denna must find a way to save their kingdoms—and each other.
REVIEW ==
Gorgeous cover. An almost high fantasy. Magic and LGBT. While I did like the overall effect of the plot but 'Of Fire and Stars' didn't give that fabulous tale I expected it to contain judging by the outer design and the synopsis. But other than that everything was just disappointing. The plot on the whole felt too generic for its fantasy setting. The characters themselves don't seem to bring much into the plot. Information dump was also seen throughout the pages which in turn brought down the pace of the story a little.
As protagonists, Denna and Mare were likable as a pair. The Princess of another kingdom being forced to marry another Kingdom's Prince to form alliances but falls in love with his cousin. This line of plot device is not that old and has been seen a lot. Although Denna is genuine is about her feelings and her decisions but there were instances where the plot goes deep into her psyche and her starts to wallow in self pity when you least expect her to because she develops feelings for not her intended but his cousin, Mare.
Mare is liked very much on the other hand. She is independent. She is nothing you would expect a Princess to be. Headstrong most of all and a fierce horse riders of all things. She may not care for anything or anyone else but she loves her horses and those are the best parts of her personality. On the whole women are treated far better than you would expect to for a story of this era. With key positions of the kingdom ruled by females even if the men seems a little reserved in their regard so that is definitely a positive point for this book.
As far as dialogues are concerned. They also don't seem constant in their execution. Some places they felt prose like and other times they felt to modern, that the transition felt too jarring to differentiate or enjoy. I'm not trying to bring the story down in anyway but while the story felt great on principal .... its those little things that don't let us enjoy the book as we expect it to.
"Magic. First love and a realm on the verge of war. Fantasy lovers will surely enjoy this new adventure"
Genre : Young Adult, Fantasy, LGBT, Romance
Publisher: Balzer+Bray
Release Date: 22nd November, 2016
My Copy: publisher & edelweiss
Rate:
3
/5 (Liked It)
Buy: Amazon | Book Depository